Cate MacQuaid, "In 'Black Futures: How to See in Total Darkness,' visions of hope spring forward", The Boston Globe, April 4, 2023
"'Black Futures: How to See in Total Darkness,' curated by James (Ari) Montford with help from Jamal Thorne at HallSpace, conjures Afrofuturism, rooting visions of a hopeful future in centuries of struggle."
Jackson Davidow, "Critics Picks: Barkley L. Hendricks", Artforum International Magazine, April 14, 2022.
"In 1982, Hendricks and fellow Black artist James "Ari" Montford disguised themselves as members of the press and attended a Ku Klux Klan rally at a baseball field in Norwich, Connecticut. Bravely taking photographs of the secret society's public rituals, they were surrounded by a crowd of three hundred white people who verbally assaulted the two men with threats and hate speech."
Anne Lawrence Guyon, "The Inexorable Sense of Life's Possibilities: A forward-thinking Black Indian Brandeisian excavates his past and comes full circle, back to the Rose Art Museum", Brandeis Alumni Stories, March 11, 2022.
"After 45 years of educating, curating and creating in more than two dozen arts and academic institutions, exhibiting his work in over 100 shows, earning more than 30 awards and three degrees, Montford is reexamining what it means to have a sense of agency and identity in a tumultuous world. His big thinking, bold intellect and sensitive heart are reflected in his work."
Pillars of Desire: James Montford and the Guardians of the Br'er Gaze
Kenney, Nancy. "Rose Art Museum, once on the brink of closure, celebrates 60th anniversary with gift of 86 works", The Art Newspaper, March 11, 2021
Ella Brady, Manan Mendiratta and Hansi Zhu. "Since 1878 — Spotlight: James Montford", The Exonian, 2020
"You can do all the groundwork you want to do, but to make people move, you sometimes need one human act of rebellion."
"The Phantom of Liberty/United HIstories/Former Glory", e-flux Announcements, May 4, 2018
"Artists to Watch in 2016", Take Magazine, Dec/Jan 2016, pg. 43
Suzanne Volmer. "The Planetarium of Black Indian Constellations at Beard and Weil Galleries", Artscope, Sept/Oct 2015
Bill Van Siclen. "James Montford's Work Resonates Today", artist profile, Providence Journal, Sunday Art, April 26, 2015
Alexander Castro. "Rhode Island Studio Visit: James Montford", Art New England, Volume 36, Issue 2, March/April 2015
"The 2D Black Indians is like an unopened powder keg: There's a formidable, biting energy rumbling inside, but it's not quite as incendiary as his earlier performance work. Crafted over 40 years, Montford's work has included everything from virtual lynchings to imitating lawn jockeys and a cigar store Indian."
Cate McQuaid. The Art of Provocation, The Boston Globe June 9, 2015
Bannister: The Story Behind the Name
Skin Deep – NewportRI.com
James Montford – The Phoenix
Bannister Gallery adds a new venue for exhibitions – Rhode Island College News
Just The Fax: Oppression And Racism – Hartford Courant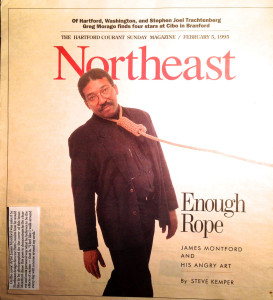 ---
James Montford is on a quest to define "Black Indian," which, for this seasoned artist, is an ongoing personal and aesthetic exploration. He envisions his work as a conversation—about identity, social justice, oppression, racial stereotypes, and the persuasiveness of myth, such as the myth that we are living in a post-racial world. Employing appropriated racially charged imagery—such as blackface minstrel show figures, so-called pickaninnies and, more recently, the "hands up" posture adopted by activists across the country in response to the arrest and death of Eric Garner in New York City. This poignant gesture also recalls  Goya's great painting the Third of May. Montford doesn't shy away from addressing stereotypes and institutional racism head on. For more than 40 years, the mixed race artist  has been both visual storyteller and agitator, drawing on his own experiences of racial confrontation and current events to create two-dimensional artworks, installations, and performance art that are both vile and humorous, elegant and grotesque—a sobering reflection of our racial history but, more frighteningly, of the tumultuous racial landscape we still occupy.
From the Wheaton College Exhibition